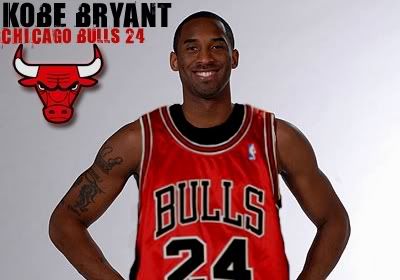 Bears suck. Let's get the NBA season started. Just like BEP said. I know, the season started yesterday. I'm a busy man, get over it.
First, the Bulls.
The Bulls are at the center of the Kobe trade talks and, therefore, at the center of NBA news. In case you haven't been paying attention, here's a quick recap. Kobe wants out, his #1 choice appears to be Chicago, he has a no trade clause, Chicago won't include Luol Deng as part of the deal.
What does it all mean? It means the Lakers are screwed. The Bulls made some noise in the East last year. They're more experienced and improved this year. Without Kobe, most experts have them going to the Eastern Conference Finals. Why would they gut the team for Kobe? Answer: they won't and rightfully so. The Lakers are upset because Paxson is low-balling them. If I was Pax, I would be doing the same thing. Both Kobe and LA have created a terrible situation. Everyone knows Kobe wants to leave and the Lakers want to deal him. But Kobe has a no-trade clause. Thus, the Lakers are screwed. Allow me to state my bias now: I'm not a Kobe fan at all. Anyway, I would continue to low-ball trade offers for Kobe because the Lakers are the ones in a desperate situation, not the Bulls. In the end, I think Kobe doesn't get traded. But if so, it's not to Chicago. Paxson is a smart man.
OK, as a reminder, I know significantly less about the NBA than I do about the NFL. Nevertheless, here are my predictions:
EASTERN CONFERENCE
Atlantic Division
1. New Jersey Nets
2. Boston Celtics
3. Toronto Raptors
4. New York Knicks
5. Philadelphia 76ers
Why am I not in love with Boston? No doubt, the Celtics are dramatically improved from where they were last year. KG, Ray Allen, and Pierce is nothing to sneeze at. But am I to expect what was arguably the worst team in the NBA last year to now win the East? That's a bit much. Plus, Boston's bench leaves much to be desired. The Nets are still solid and have their own big 3 with Kidd, RJ, and Vince.
Central Division
1. Chicago Bulls
2. Detroit Pistons
3. Cleveland Cavaliers
4. Indiana Pacers
5. Milwaukee Bucks.
The top 3 spots could go in just about any order. I think the Bulls look to be set up the best heading into the season. Detroit is old but still a good team. I don't have much faith in the Cavs outside of LeBron but I said the same thing last year. One or two injuries or key trades could make the difference here.
Southeast Division
1. Orlando Magic
2. Washington Wizards
3. Miami Heat
4. Atlanta Hawks
5. Charlotte Bobcats
The Magic are looking to build on last season's success with the "best big man in the East" Dwight Howard. The Wizards still have Arenas (for now) and a relatively solid squad to back him up. What is left of the Heat are old and fading and D-Wade can't save this sinking ship himself. I expect Shaq to be out at least 40% of the season with injuries as usual. The Hawks will be better and Horford will be awesome sooner rather than later. The "other" rookie Acie Law will contribute eventually as well. The Hawks look to have a promising future, it just isn't this season.
WESTERN CONFERENCE
Southwest Division
1. San Antonio Spurs
2. Houston Rockets
3. Dallas Mavericks
4. New Orleans Hornets
5. Memphis Grizzlies
Never doubt the Spurs. This division is comparable to the Central in the East in that the top 3 could finish in just about any order. The Spurs know they don't have to finish in first place. They just need to get to the postseason. Then, the dominance will begin. I like Houston to improve this year with new coach Rick Adelman. McGrady is hungry and Yao Ming, well, agrees I guess. How much longer can the Mavs underachieve? Even if they win the division, are you picking them to go deep in the post-season?
Northwest Division
1. Utah Jazz
2. Denver Nuggets
3. Seattle Supersonics
4. Portland Trailblazers
5. Minnesota Timberwolves
The Jazz look like they can improve from last year and Deron Williams is a stud. Jerry Sloan is probably the best coach yet to win a championship. This team made waves in the playoffs last year and I expect them to do it again. The Nuggets have the tools in Iverson, Carmelo, and K-Mart and another great coach in George Karl. They still need to prove they can make it all work. There's a lot of room between these two teams and the other 3. The NBA wants you to care about the Sonics and Blazers because of Durant and Oden but, unfortunately, these are below-average teams in crappy markets and Oden isn't even playing this year.
Pacific Division
1. Phoenix Suns
2. LA Lakers
3. Golden State Warriors
4. LA Clippers
5. Sacramento Kings
OK, so the Suns are the obvious choice here. I'm not sure why I have the Lakers so high. The distractions are many, and a Kobe trade certainly changes things. For some reason, I think Kobe stays in LA this year. I think Phil can get a Kobe-led team to win games. Golden State was fun to watch last year but I'm not sure they can do it again. Jason Richardson was an emotional leader as well as a great player that will be sorely missed.
2007-2008:
MVP: Steve Nash, Phoenix Suns
He deserves it every year and I think he'll prove it again this year.
Rookie of the Year: Al Horford, Atlanta Hawks
Everyone is picking Durant so I'm going elsewhere. My bet is on Horford and if he doesn't get the award, it might just be because of no supporting cast.
Coach of the Year: Rick Adelman, Rockets
Call it a hunch I guess. I think McGrady finally wins a playoff series this year.
Eastern Conference Playoffs
1. Chicago Bulls
2. Detroit Pistons
3. New Jersey Nets
4. Orlando Magic
5. Boston Celtics
6. Cleveland Cavaliers
7. Toronto Raptors
8. Washington Wizards
Eastern Conference Finals
Pistons over Bulls
Western Conference Playoffs
1. Phoenix Suns
2. San Antonio Spurs
3. Utah Jazz
4. Houston Rockets
5. Dallas Mavericks
6. Denver Nuggets
7. LA Lakers
8. Golden State Warriors
Western Conference Finals
Suns over Spurs
NBA Finals
Suns over Pistons
Of course, I could be completely wrong.